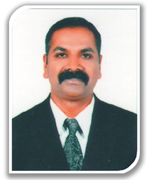 JOY VARGHESE
Former Crew Chief and Data Specialist (E-Line Logging) Schlumberger, Geo Services.
I take pride and delight to put on record, that Rig Tech Oil Field Training Center Pvt Ltd, Cochin, is one of the most premier Oil & Gas and HSE training institutes in India. Here, we equip the younger generation with theoretical and practical knowledge of the upstream and downstream processes in an Oil & Gas industry. Our training imparts knowledge in Seismic surveys, Drilling, Mud Logging, MWD, LWD, Casing, Cementing, Well Testing, Slick Line, Coil Tubing, E-Line Logging, Completion, Well Head, Group Gathering Station, Production, Processing etc. By this, we have graduated to become the only institute, imparting Level 1 training in the technical operations of the service oriented sector of Oil & Gas Industry. We have also been recognized as 'THE ONLY' institute, to facilitate direct intensive training on drilling rigs in India as well as for Well Testing & Slick Line. With such facilities, we have been successful in generating the interest of many national and international corporates to train their man power, both in India and abroad.
Looking back over the past few years, we have set up very distinctive mark of training competency, unmatched by many of our competitors. This was made possible with the active support of our trainers who come from very specialized and distinctive fields of professional experiences both at national and international levels, delivering at par with the best anywhere in the world. Their dedication has resulted in getting unmatched advantage during interviews of our trainees by employers in India & abroad, and their success rates during selection procedures have inundated the success rates of others. Our name has been recommended by many, as that one institute, which gives the cutting edge for success from curriculum to career, in a financially lucrative industrial sector.
We hope to amass eligible, young and talented men for training at our institute, and help to dedicate their services for the power and energy sectors both in India and abroad. However, their induction stages lasting for the first few years will not be lucrative to start with but, their career can bloom out from the 3rd to the 5th year with rich knowledge and cutting edge experiences they stand to acquire during these initial years, working hard and with dedication and determination, in this highly lucrative industrial sector.
We have also embarked on a project for an International training facility in India along with a programme of expansion of our activities to the Middle East and Africa, well before the end of this decade. By this, we are on course to raise our global prominence, currently limited to short term training sessions conducted at various countries, on their invitations extended to us.
We vouch to remain at the crest of change, addressing the ever increasing requirement for highly trained and quality manpower, both in India and the overseas. We dedicate all our efforts to build the career of the talented youngsters of our nation and equip them with knowledge, skill and enthusiasm, to face the world with confidence and passion for excellence and well being in life.